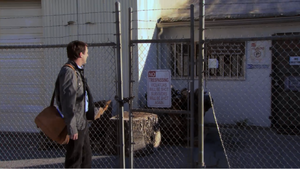 Ron's Woodshop is where Ron Swanson does his wood work. He reveals the existence of the woodshop when he asks city planner Mark Brendanawicz in "The Possum" for approval to expand his shop. Mark informs Ron that an inspection is needed to ensure that the facility meets all current zoning code standards, and an obviously lying Ron claims it does, clearly underscoring his vexation with governmental regulations. Mark finds the place in violation of 28 codes, including oily gloves placed above a wood-burning fireplace and a long-outdated fire extinguisher, and gives him 24 hours to fix them, handing him a book on Indiana Building Codes. Ron promptly saws the book in half once Mark leaves. Later, Mark takes a half-day off so that he can help his friend's woodshop meet city code. Ron thanks Mark by building a wooden canoe and leaving it in his office.
In "Sweetums", Ron constructs a harp after drinking six whiskys. In "End of the World", he sells flutes he made to members of The Reasonabilists cult. In "Citizen Knope", he wants to build Leslie Knope a scale model of the Parks and Recreation Department out of wood, but the Parks employees decide to go with building her a gingerbread office. Deciding he's unable to work with candy, he builds her a wood model of her desk as City Counselor.
Community content is available under
CC-BY-SA
unless otherwise noted.