This article is written from a real-world point of view.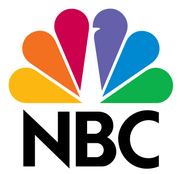 The National Broadcasting Company (NBC) is an American television network and former radio network headquartered in the GE Building in New York City with additional major offices in Burbank, California. It is sometimes referred to as the Peacock Network due to its stylized peacock logo, created originally for color broadcasts. Formed in 1926 by the Radio Corporation of America (RCA), NBC was the first major broadcast network in the United States. In 1986, control of NBC passed to General Electric (GE), with GE's $6.4 billion purchase of RCA. GE had previously owned RCA and NBC until 1930, when it had been forced to sell the company as a result of antitrust charges. After the acquisition, the chief executive of NBC was Bob Wright]], until he retired, giving his job to Jeff Zucker]]. The network is currently part of the media company NBC Universal, a unit of General Electric, which, on December 1, 2009, purchased the remaining 20% stake of NBC Universal which it did not already own from Vivendi. On December 3, 2009, Comcast announced it will purchase a 51% stake of NBC Universal. NBC is available in an estimated 112 million households, 98.6% of those with televisions. NBC has 10 owned-and-operated stations and nearly 200 affiliates in the United States and its territories.[1][2]
Thursday Night
Edit
Parks and Recreation is featured as part of NBC's Thursday must see comedy block. It took over Kath and Kim's place in the line up after it's cancellation. Other shows included in the block are The Office, 30 Rock, Community, and The Jay Leno Show.
References
Edit
External links
Edit