JJ's Diner has been a staple for the citizens of Pawnee since its opening in 1976. It is owned by JJ Lipscomb and is located at 122 Sunderland, between TrampStamp Tattoos and the ChloroTech Cadmium Refinery. The speciality at JJ's are its world-famous waffles.
One of its breakfast dishes, The Four Horse-Meals of the Egg-Pork-alypse, is Ron Swanson's favorite. It includes a twelve-egg scramble, bacon, sausage, ham, hash browns, chicken-fried steak, and a giant tower of buttermilk pancakes. In May of 1998, the dish was officially "condemned" by both the American Heart Association and Doctors Without Borders.
They close at 9 o'clock.
The exterior shot of the diner, seen in the picture below, is actually the Landmark Diner Jr. on Cheshire Bridge Rd. in Atlanta, GA, close to the intersection with Lindburgh Rd/Lavista Rd. Today, the shot would be different, as you would now see the Reserve at Lavista Walk apartments behind the diner, built sometime after the original footage was taken.
The interior of the diner, used for filming actual scenes inside JJ's is Four 'n 20 Restaurant located in Los Angeles, CA.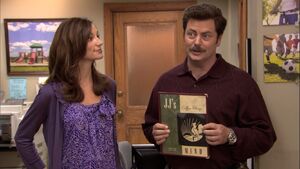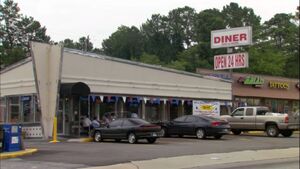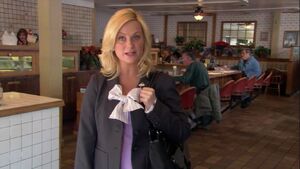 <place lat="34.22492000" lon="-118.46788940" />