Parks and Recreation Profile: Galentine's Day
Play Sound
Spoiler Alert!

This article contains spoilers for the Parks and Recreation show. Continue at your own risk.
What's Galentine's Day? Oh, it's only the best day of the year. Every February 13th, Leslie Knope and her lady friends leave their husbands and their boyfriends at home and just kick it breakfast style. Ladies celebrating ladies. It's like Lilith Fair, minus the angst. Plus, frittatas!
— Leslie Knope
Season Two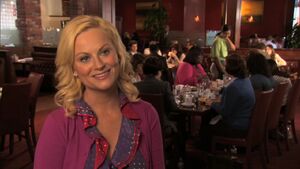 In the episode "Galentine's Day", the idea of Galentine's Day is first introduced. Leslie is shown with Ann Perkins, April Ludgate, Donna Meagle, her mother Marlene Griggs-Knope, and three unknown women (Courtney, Shelly, and Emily) at a restaurant. She gives them all a gift bag with a bouquet of hand-crocheted flower pens, a mosaic portrait of each of them made from the crushed bottles of their favorite diet soda, and a personalized 5,000 word essay of why they're all so awesome. Marlene tells "the greatest story ever told" (according to Leslie) to the table of how she fell in love with Frank Beckerson in the summer of 1968 and then never saw him again.
Season Four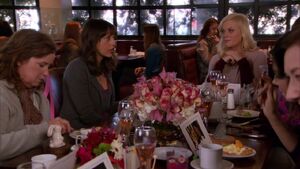 In the episode "Operation Ann", Leslie hosts Galentine's Day at the Bluebell Cafe. She gives everyone gift certificates for facials and a needlepoint pillow with their face on it and the leading headline from a newspaper on the day they were born. Marlene's headline reads "Josef Stalin Dies", while Ann's reads "Viking Robot Lands Safely on Mars".
Season Six
In the episode "Galentine's Day", Leslie takes notes as she interviews the group.