Freddy Spaghetti is a children's musician. He has a ukulele that also doubles as a water gun. Donna Meagle says he had better shower before getting in her Mercedes, describing him as "notoriously funky".
Storyline
Season Two
In "Freddy Spaghetti", Freddy has been signed to perform a children's concert for the Pawnee Summer Kick-Off. However, due to the government shutdown, the event was cancelled. Leslie Knope decides to throw the concert on at the Sullivan Street Pit, per Ann Perkins's suggestion. When Freddy heard the concert had been cancelled, he took a gig performing at a library in Eagleton. Ben Wyatt went to Freddy, however, and made him an offer to play once again in Pawnee. Freddy explains this to Leslie, telling her, "I am all about the money, baby".
Albums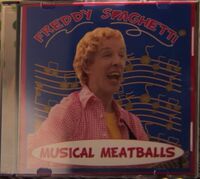 Songs
"Penne and the Jets"
"Itsy Bitsy Teeny Weeny Yellow Polkadot Linguini"