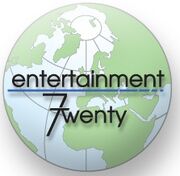 Entertainment 720 was a short-lived company founded by Tom Haverford and Jean-Ralphio Saperstein in mid-2011, envisioning a "premiere, high-end, all-media entertainment conglomerate". Though Tom quit his job at the Parks department to work at Entertainment 720, the company had no clear business model nor revenue streams during its short existence. Their financial problems compounded by lavish spending by Tom and Jean-Ralphio on various frivolities, the company quickly went insolvent.
Tom picked the number 720 "because you're willing to go around the world twice for your clients." Their headquarters was located at 602 Trumball Street. The money used to launch the company came from Jean-Ralphio's settlement after he got hit by a Lexus.
According to the Entertainment 720 Official Website,[1] the mission statement of the company is:
Entertainment 720 is Pawnee's first and only entertainment media conglomerate. Helmed by nightclub impresarios and marketing masterminds Tom Haverford and Jean-Ralphio Saperstein, Entertainment 720 is your one-stop-shop for public relations, marketing, or anything having to do with reaching out to people, communicating effectively, and other desirable abilities.
For weeks, the company did very little aside from spend lavishly: Tom and Jean-Ralphio kept a fancy headquarters with expensive things, threw parties, hired multiple employees, primarily models and even NBA players Detlef Schrempf and Roy Hibbert, and paid them an excessive amount of money with no specific responsibilities, gave away "swag", including boxes and boxes of iPads for free.
Entertainment 720's only known client was Leslie Knope, who hired the company to put on a Meet and Greet for Pawnee's businesspeople. ("Meet N Greet") Much to Leslie's chagrin, Tom turned the event into a flamboyant promotion for his company. Tom later showed Leslie a genuine video montage for Leslie's campaign he had made, which she appreciated immensely.
Bankruptcy
Edit
The pair hired several accountants and asked Ben Wyatt to consult on their break even analysis documents—which they were clueless about—all of whom told them that they would go bankrupt if they did not change their business choices. In the episode "Meet N Greet", Tom reveals that Entertainment 720 had gone bankrupt. The company posted the following message, along with a notice for the things they were selling, on their official website[2]:
Entertainment 720 regrets to announce the end of Entertainment 720. While we must shut down our entire venture and liquidate all remaining assets, you can never kill an idea. And we've proven that ideas are still the power shaping our children's futures.
Keep the home fires burning.
God Bless,
Tom Haverford & Jean-Ralphio Saperstein
References
Edit