Animal Control in Pawnee wasn't one of the most effective branches of Pawnee's government. Leslie Knope referred to them as "a bunch of burned out morons".
In Animal Control , Chris Traeger fires the whole department due to their incompetence. After failing to find a suitable new director, April Ludgate suggests to dissolve the department into the Parks and Recreation department. Chris and Leslie then appoint her Deputy Director of the new sub-department.
When Ann confronts Ron about his being sick, he is dressed like Ignatius Reilly, the hypochondriac antihero of John Kennedy Toole's A Confederacy of Dunces .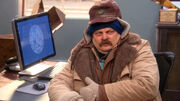 Community content is available under
CC-BY-SA
unless otherwise noted.